Legacy by James Kerr
Champions do extra. They sweep the sheds. They follow the spearhead. They keep a blue head. They are good ancestors. In Legacy, best-selling author James Kerr goes deep into the heart of the world's most successful sporting team, the legendary All Blacks of New Zealand, to reveal 15 powerful and practical lessons for leadership and business.
Legacy is a unique, inspiring handbook for leaders in all fields, and asks: What are the secrets of success - sustained success? How do you achieve world-class standards, day after day, week after week, year after year? How do you handle pressure? How do you train to win at the highest level? What do you leave behind you after you're gone? What will be your legacy?
Coaching the Tiki Take Style by Jed Davies
Jed Davies shows you, the coach, how to implement this style of play. Davies has studied the methods used at FC Barcelona, Liverpool FC, Swansea City FC, Villarreal CF and AFC Ajax who have all developed possession based philosophies as a way of controlling and winning games.
Part 1 explores the development theory that requires an understanding before you are able to produce the Tiki-Taka style of football, this includes: Establishing a Football Philosophy, Identifying Local Talent and Purposeful Training. Part 2 looks at the Tiki-Taka philosophy and how it can be developed Part 3 looks at the influential figures in the evolution of Tiki-Taka with chapters on Rinus Michels ('The Father of Football'), Johan Cruyff and Pep Guardiola among others. Part 4 looks at the Tactical Theory and provides a blueprint of how to play with the Tiki-Taka brand of football.
Revolucion -In Shadows of Marcelo Bielsa by Jed Davies
The Philosophy of Football: In Shadows of Marcelo Bielsa by Jed C. Davies is a product of three and a half years of research, interviews over coffee tables, bus journeys through foreign counties and the development of an idea. The idea has been a simple one: to theorise and understand the philosophy of one of the most influential football coaches in the history of the game: Marcelo Bielsa
​
From over 50 training sessions, theory on rotations and movement to the languages of the game and the #1-3-3-1-3 formation, Davies has explored many of the themes that merge into one to form the Argentine's football thinking. The Philosophy of Football: In Shadows of Marcelo Bielsa delivers best in its attempt to celebrate football played between lines: between the opposition midfield and defensive lines. Between enemy lines
Universality by Matt Whitehouse
Arrigo Sacchi, the famous Italian coach who revolutionized Italian football suggested that the game of the future will not just be a team-centred game but a universal game. For him the game of the future will require positional freedom and variability, with interchangeable footballers capable of operating wherever required. In the new book from Matthew Whitehouse this concept of universality as well as its viability as a blueprint for the future game.
​
However with coaches like Guardiola, van Gaal (at Manchester United) and Marcelo Bielsa (at Marseille) influencing players as well as future coaches it appears that we may be witnessing a genuine era of universality. With the level of athleticism, the quality of pitches, and an ever-growing intelligence from players and coaches - universality really can become a reality.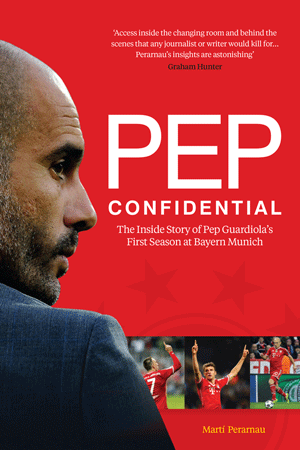 Pep Confidential by Marti Perarnau
Perarnau's narrative offers an astonishingly comprehensive account of Pep's first year at the Säbener Straße, thanks to author's unlimited access to Bayern's staff, players, facilities, and to Pep himself, as Perarnau shadowed the celebrated coach through the entirety of his first year in Munich. The result is a carefully-layered portrait of world football's most compelling auteur.
​
However, the book is much more than simply a retelling of the Pep's first season at Bayern; it also functions as what is surely the most in-depth examination of Pep's famed (and oftentimes misunderstood) coaching philosophy, methods, and tactics
The Chimp Paradox by Dr Steve Peters
According to psychiatrist Dr. Steve Peters, who works with everyone from elite sporting competitors to hospital patients, and is himself an M60 athletics champion in sprinting, happiness and quality of life should be life goals for us all. He wants people to nurture their emotional health, because it's this that lays the foundation for achieving those life goals.
Over a long career in medicine, the early part of which he spent working with patients with serious personality disorders, Peters has developed his simple 'Chimp model' as a way for anyone to manage their mind and behaviour. This highlights three systems that, despite our uniqueness, we all possess: Chimp, Human, Computer.